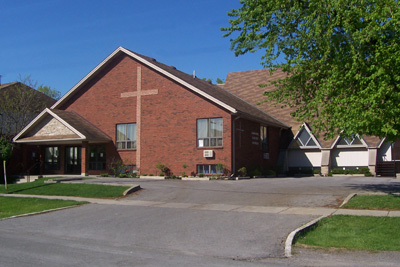 Pastor: Richard Smith
Contact by e-mail at: vabcrevrick@gmail.com
******** During these very difficult times of Covid19, Emmanuel Baptist Church is worshipping "Online". Pastor Richard's sermons can be accessed by visiting the Victoria Avenue Baptist Church's website at: https://www.vicavebaptist.ca/media/ ***********
Location:
68 Rollins Drive, Belleville, ON K8N 4J4
(Corner of Rollins Drive and Victoria Ave - City Bus Stop (Parkdale Heights Route))
Map of our location
Phone: (613) 969-8885
Emmanuel Baptist Church is the house of God.
You enter this church not as a stranger but as a guest of your Heavenly Father.
Come in that you may worship and feel His presence.
Go forth that you may serve and know His blessings.

Worship Service with Traditional Hymns is held Sunday at 10:30 a.m.
Communion Service is held the first Sunday of the month.
Sunday School every Sunday.

Lift Access

Accessible Washrooms
Hearing Assistance Available