Church Library
Please Note: The Library Table has been moved to the back of the Sanctuary so it will be more conveniently accessible on Sundays. Featured books are on the library table for 2 weeks and then placed downstairs in the main library. The bottom row is the current selection and the top row contains the previous week's selection. If you are looking for a particular book, please ask Cathy Leavitt. She will be glad to help you find it.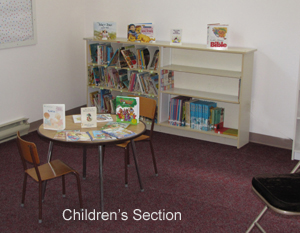 November 19, 2017 - Available this week is the 3rd novel in Dani Pettrey's Chesapeake Valor series - Blind Spot. The Dr. David Jeremiah CD and study guide topic is Evangelism. Also available is Living with Thorns by Mary Ann Froehlich. In this book, the author suggests when things in life just aren't going our way, that instead of asking "why", we should be asking "who"; that is, who do we turn to for help and guidance.
November 12, 2017 - This week the Dr David Jeremiah's study guide includes a DVD rather than a CD along with the study booklet. The topic is Be Wise. Also available is the 2nd Christy DVD – A Change of Seasons and a stand alone novel by Lisa Wingate – Blue Moon Bay.
November 5, 2017 - Available this week is the first of the Christy DVD movies – Christy- Return to Cutter Gap. The Dr. David Jeremiah CD and study guide is vol. 3 Prophecy – Be Ready. Also available is a historical fiction novel, A Place in His Heart.
October 29, 2017 - This week the topic for Dr. David Jeremiah's book and CD is Prayer – Be Communicating. The 2nd book in Terri Blackstock's If I Run Series is also available – If I'm Found.