Church Library
Please Note: The Library Table has been moved to the back of the Sanctuary so it will be more conveniently accessible on Sundays. Featured books are on the library table for 2 weeks and then placed downstairs in the main library. The bottom row is the current selection and the top row contains the previous week's selection. If you are looking for a particular book, please ask Cathy Leavitt. She will be glad to help you find it.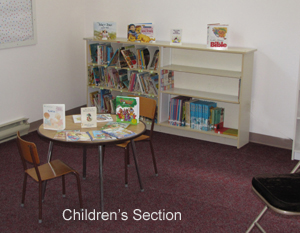 August 13, 2017 - This week Irene Hannon's new Hope Harbor novel, Sandpiper Cove is available as well as a stand alone novel by Kim Vogel Sawyer, Where Willows Grow that was recently donated.
August 6, 2017 - Available this week is the 3 novel in the Girls of Harborview series for young teens – Secret Admirer by Melody Carlson. Also available is the final novel in the Tracie Peterson historical Alaskan Quest trilogy – Whispers of Winter.
July 30, 2017 - This week the 3rd and last book in the excellent Darling Family series is available – They Danced On. Also available is Joel Osteen's New York Times Bestseller, Become a Better You.
July 23, 2017 - This week's feature is 2 new DVDs. For the children is a new Veggie Tales, Larry Learns to Listen. Families will enjoy Heaven Sent - rated PG 12.