Church Library
Please Note: The Library Table has been moved to the back of the Sanctuary so it will be more conveniently accessible on Sundays. Featured books are on the library table for 2 weeks and then placed downstairs in the main library. The bottom row is the current selection and the top row contains the previous week's selection. If you are looking for a particular book, please ask Cathy Leavitt. She will be glad to help you find it.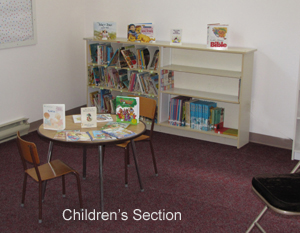 June 25, 2017 - This week a new DVD rated PG for thematic elements is available. Queen of Katwe is a Disney film based upon the true story of a Ugandan girl who discovers she has an amazing talent for the game of chess. Also is available is book one in the Darling Family series, All Right Here by Carre Armstrong Gardner.
June 18, 2017 - Available this week are 2 standalone novels. Love Finds You in Deadwood South Dakota is a large print version historical romance. The Story Keeper by Lisa Wingate, author of The Promise Box, is the story of successful publishing editor who faces her past while finding the author of a forgotten manuscript.
June 11, 2017 - Available this week is the final novel in the Dear Daphne series, A Will, A Way, and A Wedding. Also available is a Karen Kingsbury stand-a-lone novel, On Every Side.
June 4, 2017 - New this week is a Veggie Tales video titled Noah's Ark. Also available is a stand alone novel by a new author to our library, Terry Kraus, M.D. Lip Reading is the story of a medical researcher on the verge of a breakthrough that will transform medicine.