Church Library
Please Note: The Library Table has been moved to the back of the Sanctuary so it will be more conveniently accessible on Sundays. Featured books are on the library table for 2 weeks and then placed downstairs in the main library. The bottom row is the current selection and the top row contains the previous week's selection. If you are looking for a particular book, please ask Cathy Leavitt. She will be glad to help you find it.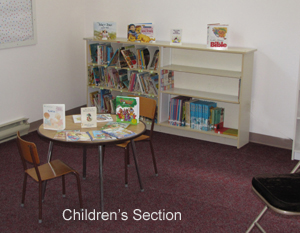 September 24, 2017 - This week 2 stand alone novels are available – A Noble Groom by Jody Helund, and Under a Maui Moon by Robin Jones Gunn. Also available is Prayer by Richard J. Foster, a "warm, compelling, and sensitive primer on prayer, helping us to understand, experience, and practice it in its many forms..."
September 17, 2017 - his week, 3 new books are available. Touched By His Hand, The Reflections of Philip Keller contains 4 of Keller's best selling works in 1 volume. This book reveals Keller's spiritual sensitivity and insight, qualities which have made him "one of the most beloved devotional; writers of all time". For Terri Blackstock fans, there is a new stand alone novel, Double Minds. Someday Home by a new to our library author, Lauraine Snelling is a "heartwarming story that celebrates how life-changing friendships can be found in all seasons of life."
September 10, 2017 - New this week is Premiere, book 1, in a Melody Carlson series for teens, a novel in which "two very different sisters are given the chance to star in their own fashion TV show." Also available is a Terri Blackstock's stand-alone novel, Covenant Child, " a contemporary spin on the concept of biblical covenant".
September 3, 2017 - Featured this week is War Room, a "Faith Friendly" Dove rated DVD- a movie that "explores the power that prayer can have". Also available is the 2nd novel in Janette Oke and Laurel Oke Logan's Return to the Canadian West series – Where Trust Lies. This novel is in large print format.