Church Library
Please Note: The Library Table has been moved to the back of the Sanctuary so it will be more conveniently accessible on Sundays. Featured books are on the library table for 2 weeks and then placed downstairs in the main library. The bottom row is the current selection and the top row contains the previous week's selection. If you are looking for a particular book, please ask Cathy Leavitt. She will be glad to help you find it.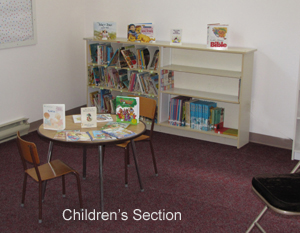 October 15, 2017 - Available this week are 2 stand alone novels both of which deal with discovering and coping with past family secrets. Shadows of Ladenbrooke Manor is authored by Melanie Dobson and Reunion is a Lauraine Snelling novel.
October 8, 2017 - This week book 1 in Terri Blackstock's new series – If I Run is available and a stand alone novel by Lauraine Snelling – The Second Half .
October 1, 2017 - This week 2 more single novels are available. Fans of Terri Blackstock will enjoy Emerald Windows. Rebellious Hearts is a historical romance by Jody Hedlund.
September 24, 2017 - This week 2 stand alone novels are available – A Noble Groom by Jody Helund, and Under a Maui Moon by Robin Jones Gunn. Also available is Prayer by Richard J. Foster, a "warm, compelling, and sensitive primer on prayer, helping us to understand, experience, and practice it in its many forms..."