Church Library
Please Note: The Library Table has been moved to the back of the Sanctuary so it will be more conveniently accessible on Sundays. Featured books are on the library table for 2 weeks and then placed downstairs in the main library. The bottom row is the current selection and the top row contains the previous week's selection. If you are looking for a particular book, please ask Cathy Leavitt. She will be glad to help you find it.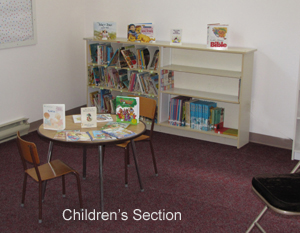 July 23, 2017 - This week's feature is 2 new DVDs. For the children is a new Veggie Tales, Larry Learns to Listen. Families will enjoy Heaven Sent - rated PG 12.
July 16, 2017 - This week the books available continue with book 2 from two new series. Missing by Lisa Harris is from her police procedural Nikki Boyd series, and Better All the Time by Carre Armstrong Gardner continues the Darling Family series.
July 9, 2017 - This week a new DVD is available. Confessions of a Prodigal Son is Dove Foundation rated "faith friendly PG." Also available in a large print edition is book 3 of Tracie Peterson's Sapphire Brides series – A Love Transformed.
July 2, 2017 - Available this week is book 1 in a new series by a new-to-us author Lisa Harris. This series is a police procedural type of novel featuring Nikki Boyd and the Tennessee Missing Persons Task Force. The novel is titled Vendetta . Also available is a stand alone Karen Kingsbury novel, A Time to Embrace.